Audio-video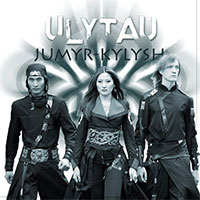 All score voices written and arranged by Maxim Kichigin. Tracks written: Kurmangazy (1), Winter—from Four Seasons (2) written by A. Vivaldi, I. Iskakov (3), Mahambet (4), Toccata and Fugue (5) written by I. S. Bach, N. Tlendiev (6), Turkish March (7) written by W. Mozart, Shalmyrza (9), Kazangap (10)
All tracks performed by ULYTAU: Nurgaisha Sadvakasova (violin), Maxim Kichigin (solo guitar), Erjan Alimbetov (dombra), Roman Adonin (keyboards), Evgeny Sizov (bass guitar), Igor Djavad-Zade (drums).
Recorded and mastered at Vladimir Osinsky Studio by Slava Motilev (recording) and Leonid Vorobiev (mastering). Mixing and sound producing by TIM PALMER, Paramount Recording Studio (USA).
Record director Tabriz Shakhidi, Music producer Maxim Kichigin, Project author Kydyrali Bolmanov.
www.ULYTAU.com